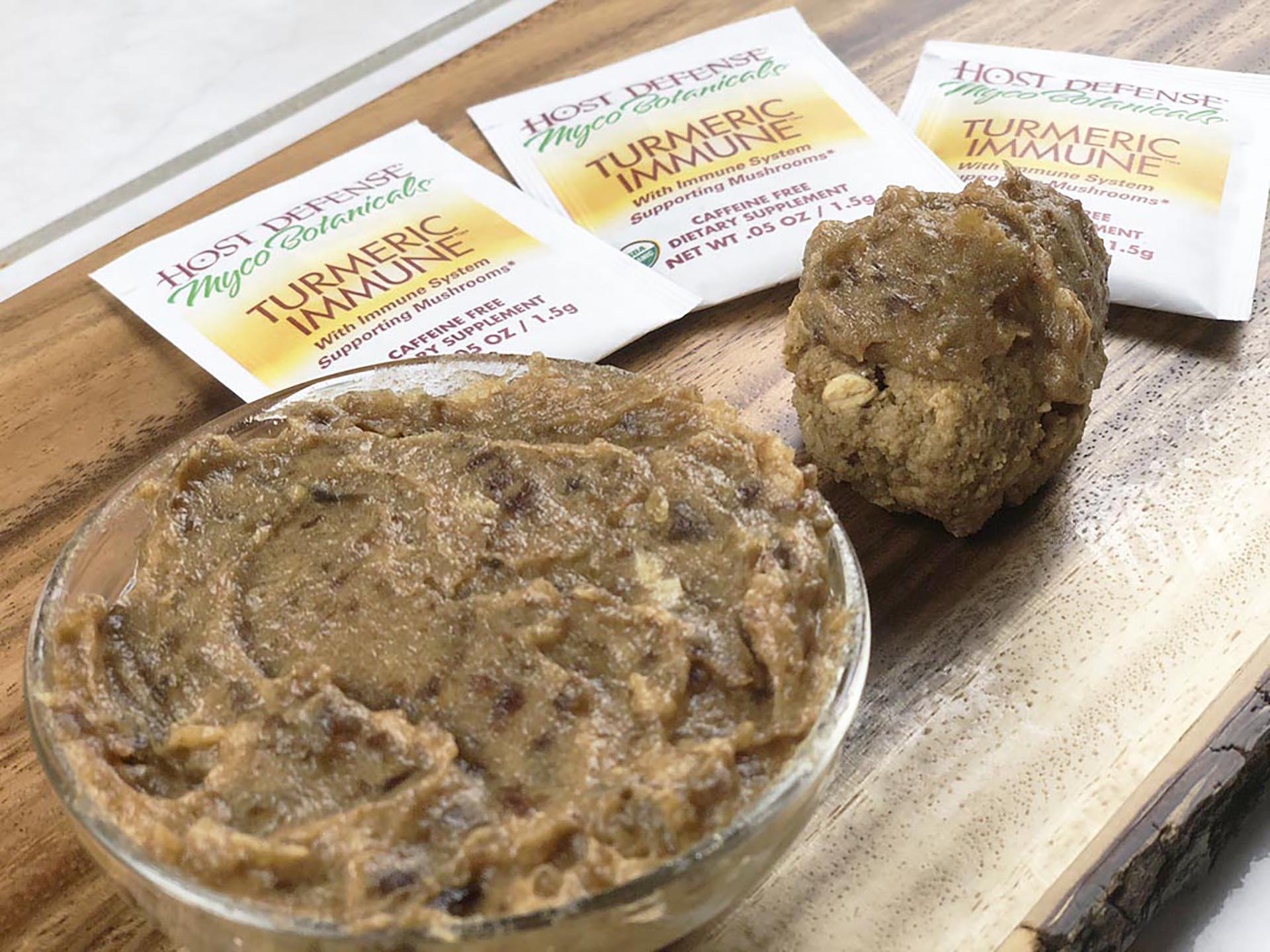 Cardamom Tea Cookies with Turmeric Date Caramel
Host Defense® Turmeric Immune™ Mycobotanicals Tea® adds a warming bite to these snack-sized treats. 
Ingredients:
 Cookies
3 cups gluten free flour, or gluten free flour blend
1 teaspoon vanilla extract
½ cup gluten free rolled oats
2 teaspoons baking powder
2 tablespoons almond butter
1 egg
½ cup almond milk (vanilla flavor, if you'd like!)
½ cup coconut sugar
1 teaspoon anise extract
1 tablespoon cardamom
3 tablespoons toasted sesame seeds for sprinkling atop cookies
Turmeric Date Caramel
1 cup of dates
Directions:
Preheat oven to 350 degrees
Combine dry ingredients in a bowl, minus sesame seeds (set to the side). Mix until thoroughly combined.
Add egg, almond butter, vanilla extract, and anise extract to dry ingredients and mix.
If batter seems too thin, add additional teaspoons of gluten free flour until batter takes on a more dough like consistency.
Use a tablespoon to scoop dough from bowl, roll into balls, and place on baking sheet 2-inches apart.
Bake 8-10 minutes or until golden brown.
Remove from baking sheet and place on rack to cool for at least 15 minutes.
Top with dollop of date caramel (see below for instructions) and sprinkle with toasted sesame seeds. 
Directions for Turmeric Date Caramel:
Boil 8 oz. water and steep 3 bags of Host Defense® Turmeric Immune™ Mycobotanicals Tea® for 10 minutes.
Remove pits from dates.
Add dates to food processor and pulse.
Add brewed tea to food processor to liquify and smooth dates.