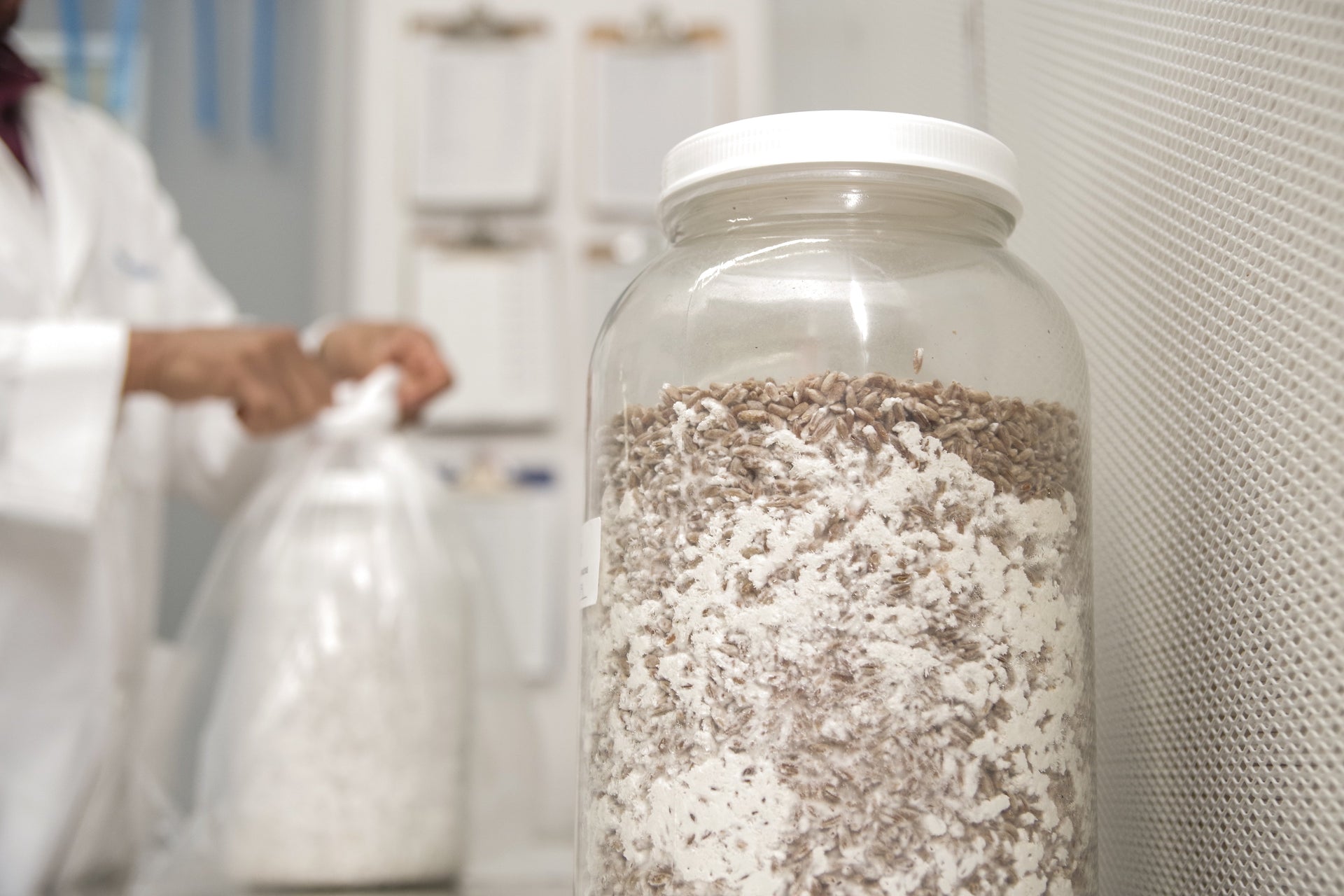 Mushroom Grain Spawn
Looking for Grain Spawn and not sure where to begin? Start here!
Below is some information and answers to some of the most frequently asked questions we get about our Grain Spawn. If the information you're looking for can't be found below, feel free to reach out to our customer service team via phone or email!
Phone: 877-504-6926
Email: info@fungi.com
Fungi Perfecti's Grain Spawn comes in two forms. 
The first form is a first- or second-generation Grain Master in a reusable 1-gallon glass jar fitted with an Autoclavable lid and Synthetic Filter Disc (approximate yield per jar: 2/3 gallon). The second is a first- or second-generation Grain Master in a disposable Spawn Bag with Filter Patch (approximate yield per bag: 1.25–1.5 gallon). Each Grain Master can be expanded up to 1000 times its mass. These are certified organic by the Washington State Department of Agriculture. Each Grain Spawn order is custom-made and requires a 4-8 week lead time from date of order.    
When should I order my spawn/culture in relation to when I plan to use/expand it?
Order processing and shipping timelines vary greatly depending on the production lab schedule and which species you're ordering. Once an order is placed, it can take anywhere from 4-8 weeks before delivery. First, a terms of use agreement needs to be completed and returned and payment made. Then, an ETA is established for shipping - at least 4 weeks out from the time an order is placed. Please remember that some species take longer to grow out than others which may affect the turnaround time.
Terms of Use Sale Agreement for Fungi Perfecti's Grain Spawn: 
When you place an order for Fungi Perfecti's Pure Mushroom Grain Spawn, you will be required to read and acknowledge a Terms of Use Sale Agreement prior to delivery. The text for this agreement is available for viewing online:
Important Conditions & Restrictions for International Customers
Why do I need to sign an agreement for Grain Spawn and Cultures?
We enjoy healthy competition, but we have spent many years finding and developing our genetics. Basically, if you would like to create products that will compete with ours in the marketplace, you need to do your own leg-work and find your own mushroom strains to work with. However, growing and selling mushrooms using our strains is permitted. 
For strategies on how to acquire new strains, check out two books authored by our own Paul Stamets: Growing Gourmet and Medicinal Mushrooms and The Mushroom Cultivator.
What should I expect when it arrives?
When our spawn/cultures ship they are fully colonized and at peak viability. Outer plastic bags should be removed from spawn immediately so gas exchange may occur through the sterile filter patch/disk. It is best to let spawn rest for at least 24 hrs after arrival in case any damage has occurred during shipping. Watch for new growth and check for contamination. Take pictures and notify us right away if there are any issues. Backups should be made for cultures within 10 days, and Grain Spawn should be further expanded before being stored in a clean environment.
Where can I find detailed information regarding your strains, including growth parameters and expected yields?
Please note: unlike our Plug Spawn, our Grain Spawn does not come with instructions. It is up to you to familiarize yourself with the advanced cultivation techniques required to grow mushrooms from sterile tissue cultures. Since we cannot control the methods by which this spawn is used, no promises or claims about yields are made. There are simply too many factors involved.
Information about many of our strains are featured in the books Growing Gourmet & Medicinal Mushrooms and The Mushroom Cultivator.
When should I purchase Sawdust Spawn vs. Grain Spawn?
Sawdust can be expanded but is best to use with end fruiting substrates. Grain Spawn is meant for folks with a little more advanced cultivation skills. Grain is a wonderful substrate because you can expand it 10 times, then expand each 2nd generation spawn jar 10 times - one jar can then make 100 jars of spawn! From there, grain can be transferred to a variety of substrates including sawdust, dowels, and straw. People generally prefer grain as it is a great nutrient source and sticks to substrates like straw far better when inoculating.
What is the difference between the Grain Spawn Jars and Bags?
Grain Spawn Jars are reusable and come with an Autoclavable lid with holes and a filter disk for airflow. Jars hold less spawn overall and they weigh about 9 lbs. Jars are much more fragile and require extra care when shipping. At about 12 lbs, the bags hold more spawn and have an airflow patch that filters down to 0.3 microns. Please note that Grain Spawn bags are only one-time use.
Can I grow Morel Mushrooms outdoors using only your Grain Spawn?
Yes, however, Morel patches are regarded as one of the most difficult mushrooms to cultivate. Even if the mycelial network is present and happy, it could be years before they send out fruit bodies.
Morels are different from most of the mushrooms we grow here. They form sclerotia, which are like compacted mycelial eggs. This is where the mushroom comes from and what you would mix with your media matrix for inoculating an outdoor patch. Here is a picture overview of cultivation techniques to help you visualize.
For more information on cultivating Morels, please see Growing Gourmet and Medicinal Mushrooms, pages 415-430.
An Important Note for our Customers in the Hawaiian Islands
The Hawaii State Department of Agriculture has recently increased their restrictions on the importation of live mushroom mycelium into the islands. This affects the sale of Fungi Perfecti's Plug Spawn for Log and Stump Cultivation and Pure Mushroom Spawn and Cultures. Customers in Hawaii wishing to purchase any of these products will need to first apply for and receive an Import Permit from the HSDA Plant Quarantine Branch. Additionally, importation of our MycoGrow™ products is completely prohibited.
The permit can be downloaded in Adobe Acrobat format online here.