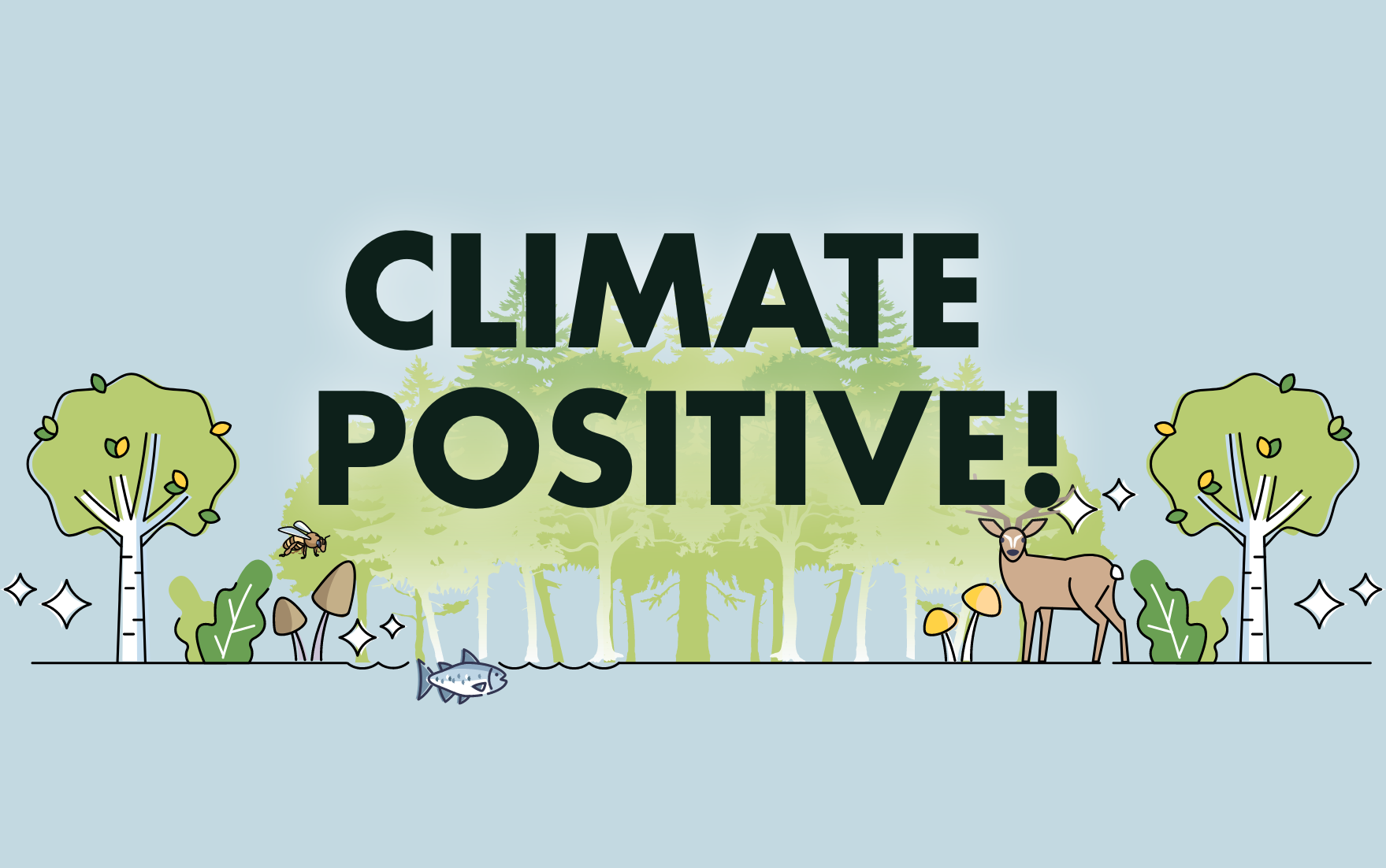 We're Climate Positive
While we've always considered our environmental footprint and worked to limit the overall impact of our business, we are increasingly focused on how to move forward in a way that also creates a more positive impact for people and planet. As we've grown over the past 40 years, how we define and implement sustainability has also evolved.

Offsetters Climate Positive Designation
Working with Ostrom Climate Solutions, a leading carbon management solutions provider, Fungi Perfecti® is excited to take the next step in our sustainability journey.

For us, being carbon neutral - offsetting the same amount of emissions as we produce - is not enough. Between efforts to improve operational efficiency, increase our use of renewable energy, and support offset projects, we are proud to say we offset MORE emissions than we produce - making us CLIMATE POSITIVE!
110% Climate Positive
As of 2021, we calculate our impact using the combined totals of all three Greenhouse Gas scopes. In addition to offsetting 100% of the combined totals of our scopes 1, 2 & 3 emissions, we've gone even further and offset an additional 10% - that's 10% MORE emissions than we produce, earning us the Offsetters CLIMATE POSITIVE designation!
This Is How We Do It

In 2018 we established a Sustainability Committee - an interdepartmental team of passionate individuals - to assess the environmental footprint of our activities, identify the most impactful opportunities for improvement, and create a long-term sustainability strategy. 
Along with our internal Sustainability Analyst, this group has paved the path to making Fungi Perfecti and Host Defense® climate positive! Here's how we're doing it:

Step 1. Establish our baseline
We started by calculating our overall impact. We collected data from each of the three sustainability 'scopes' that were established by the Greenhouse Gas (GHG) Protocol Corporate Standard:
Scope 1: DIRECT 
This scope calculates

direct

emissions from manufacturing at all company-owned facilities. For us, that primarily includes our farm in Washington state where we grow all of our own mushroom mycelium and fruit bodies.
Scope 2: INDIRECT
This scope calculates

indirect

emissions in the form of energy purchased from a third-party. For us, that means assessing our use of heating & cooling and electricity at our main office, our warehouse, and our farm.
Scope 3: UPSTREAM & DOWNSTREAM
This scope is unique and the most complicated to establish. It includes calculating the use of goods and services

'upstream' and 'downstream'

in the manufacturing process, and it's not always possible to confirm how much of the emissions have already been calculated as scope 1 or 2 by the organization or individuals generating the output. For us, scope 3 primarily includes shipping, consumables like paper and cardboard, and employee commuting.
Step 2. Minimize our impact
After establishing our baseline, we began identifying areas where we could minimize our impact through reduction, recycling, and improved efficiencies. Steps we've taken include:
Implementing solar power at our farm.

Recycling more than 3 tons of e-waste.

Reducing single-use plastic.

Improving efficiency of lighting and HVAC equipment.

Moving to a new warehouse with increased efficiency and smaller footprint.
Step 3. Support offset projects
Beyond decreasing our overall impact, we go one step further and invest in high-impact carbon offset programs that increase our positive impact. The Offsetters projects we support are verified and validated by third parties to ensure that the emission reductions are real, additional, and permanent. These programs are a way to not only balance our footprint, but also have a positive impact on people and communities and promote long term sustainable development worldwide. Results from a few of the offset programs we've supported around the world include:
Promoting sustainable economic development.

Reducing methane and carbon dioxide emissions.

Improving air quality and clean water access.

Protecting and restoring ecosystems.

Reducing deforestation and increasing carbon sequestering. 
The Materials Matter

As part of our efforts to minimize our overall impact, we use ecologically responsible packaging materials. Most of our packaging has been recycled and can be recycled again. With materials designed for functional considerations like quality and convenience, and environmental considerations such as material composition, carbon footprint, and end-of-life recyclability, we don't cut any corners. We use:
100% Post-Consumer Recycled (PCR) plastic for our bottles and canisters.

Post-Consumer Recycled (PCR) cardboard for our packaging.

Inert amber glass for our sprays and extracts.

MycoBrew® Packaging
And, after years of pioneering development work, we're proud to say that our MycoBrew® beverage packets are made from cutting-edge, custom-crafted material that is in alignment with our sustainability goals.
Take Action

Sustainability efforts look different for a business than for individuals. Having awareness and being intentional in our choices will make a lifetime of difference.
What can you do to make a difference?
Reduce your footprint - From energy efficient light bulbs to electric vehicles, there are numerous options for individuals interested in decreasing their overall footprint. Take time to assess areas of impact that could be reduced through more sustainable options. 


Recycle -

Some municipalities don't offer a lot of options for individuals who want to recycle. TerraCycle is a resource designed to help you recycle a wide range of materials, from plastic containers and clothing, to shipping materials and more. Check out the TerraCycle website for more information:

https://www.terracycle.com/en-US/


Spend consciously -

Buy from brands with sustainability values that align with yours. Stretch the value of your consumer dollars by supporting companies and organizations that are doing their part to minimize emissions and striving to make a positive impact in the world. 
Join Us! 
Human health and environmental health are inextricably linked.
The entire Fungi Perfecti and Host Defense family is united in our efforts to support both PEOPLE & PLANET. We are proud to say we offset MORE than the amount of emissions we produce - making us 110% CLIMATE POSITIVE!
Your choice to purchase beneficial mycelium-based supplements from Host Defense Mushrooms helps support our sustainability efforts.*
We appreciate your partnership, value your loyalty, and look forward to being your source for high quality, consciously produced mushroom mycelium supplements for years to come.
Join us on the journey to making our planet CLIMATE POSITIVE.

Check out our Sustainability Report to learn more about our sustainability efforts.