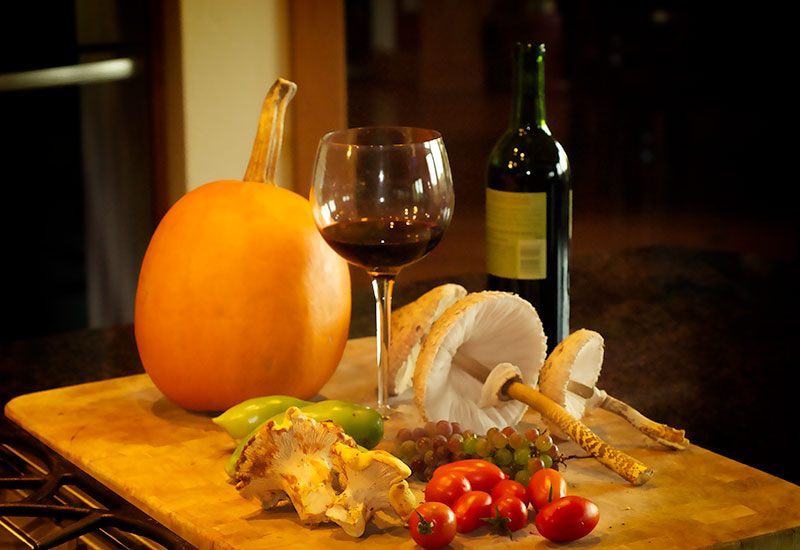 Wild Irish Mushrooms in a Broth of Trees and Moss
From Greg Stewart.
This light fragrant soup can accompany any meal but first I'd like to tell you the short story of how I was inspired to create this recipe.
Among the five or six species collected that fateful day was a superb specimen of Boletus badius. You know how wild mushrooms are. One seldom finds large boletes that have not been infested by larvae or devoured by those greedy slugs. This one was near perfect. Very firm from stipe to cap. It was longing to be devoured.
I cut a thick symmetrical slice from the centre of the stem and threw it in the pan as is with a tiny bit of light rapeseed oil and fried it over medium heat. There was little bit of moss and a couple - just a couple - of fermenting/blackened spruce needles still attached. I could smell the forest while it cooked. Not surprisingly, it tasted of the forest. It was a multi dimensional culinary miracle of chance. I could taste the earthiness of moss, sweetness of the mushroom and pungent aroma of the evergreen canopy.
Then one day as I was sipping on some birch bark and piptoporous betulinus tea when I thought I should boil this  to get more flavour and goodness out of it. After a short simmer it was quite bitter. In a brainstorm I threw in a few fresh Cantharallus infundibuliformis. It was better but not quite there so I thought of my prior experience and threw in a couple of spruce tops and some moss. Even better now I concluded. I knew this was the beginning of something special. I hope you think so too.
Since then I leave the P. betulinus out due to the bitterness and use various species of fresh, dried or frozen mushrooms according to what is on hand. When using dried weigh first then reconstitute before adding. I collect the birch bark by coppicing responsibly in autumn. The best bark comes from the smaller branches anyway. Ordinary green sphagnum moss is strong in flavour and seems to intensify with cooking. In my experience I find little difference in the flavour of the spruce tips throughout the year.
Here is my rough recipe for Wild Irish Mushrooms in a Clear Broth of Trees and Moss being recorded for the very first time for the benefit of all who may use it.
Ingredients for eight bowls:
twenty spruce tips
a good bit of birch bark
a little fresh clean sphagnum moss
some of your favourite salt
two handfuls of fresh or frozen wild mushrooms or about 100 grams dried
3 litres of water
Method:
Bring the water to a rolling boil and add moss, spruce tips and birch bark. Turn down the heat and leave to simmer 30 minutes to an hour or so depending on your altitude. Strain the concoction through a fine sieve. Add the mushrooms and simmer another forty minutes or so. Salt to your personal taste. For me the delicate natural flavours are the focus.
Have a favorite mushroom recipe? Share it here!