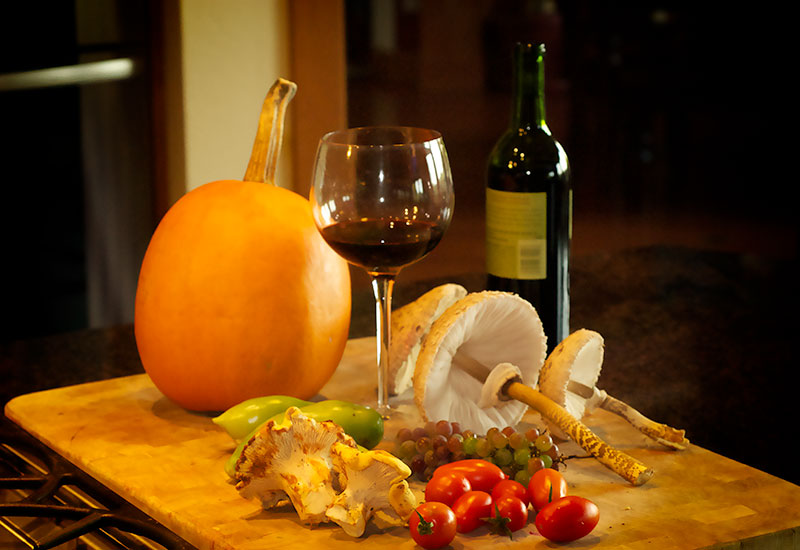 Paul's Faux Bacon Mushroom Bits
Courtesy of Paul Stamets, founder of Fungi Perfecti.
1–2 lbs of fresh organic Shiitake or Maitake mushrooms
Olive oil
Soy sauce, tamari or teriyaki sauce
Sesame oil
Thinly slice the mushrooms. Mix together olive oil, soy sauce/tamari/teriyaki and a splash of sesame oil. Finger-dip the mushroom slices into the mixture, then place them onto a cookie sheet (no foil needed). You will probably need 2–3 cookie sheets. Bake at 375 °F for 30–50 minutes.
The mushroom slices will shrink as they lose moisture. Consolidate the mushrooms onto one cookie sheet, flipping them over. Give them space!
Drain any excess Shiitake soaking mixture and place into jar, then refrigerate for future use as potent flavoring or infusion (salad dressing, chicken basting, Asian vegetables sauce or cooking oil for Asian stir-fry, etc….)
Place the now-consolidated mushrooms into oven. Bake at 325 °F for 25–45 minutes.
Remove mushrooms from the oven and let sit for ½ hour. Use an egg-turner to scrape them off the cookie sheet and let cool in the air for about 15 minutes. (They will harden and lose more moisture.)
After 15 minutes, return mushrooms to the oven to "cook off" the residual moisture. The mushrooms should lose their leather-like texture, beoming crispy and hard on the edges. Important that the mushrooms are not soft, but rigid! However, take care not to burn them!
Remove mushroom from the oven and place into a paper-towel-lined bowl. Allow them to come to room temperature and then break up to desired-size morsels.
If you add garlic after the mushroom bacon is made, wowza! Fantastic on everything.
There is an amazing cook-down of mass—you can start with 1–2 lbs. of mushrooms and end up with a small volume. The mushroom bacon bits can then be put into a refrigerator and stored for a long time. Or store them in a plastic tub in the freezer; pull out when needed as garnishment to meat, fish, salads, etc…
When using, simply heat. (Also good cold on salads with nuts, like walnuts!)
Have fungi,
Live long and enjoy !
Have a favorite mushroom recipe? Share it here!