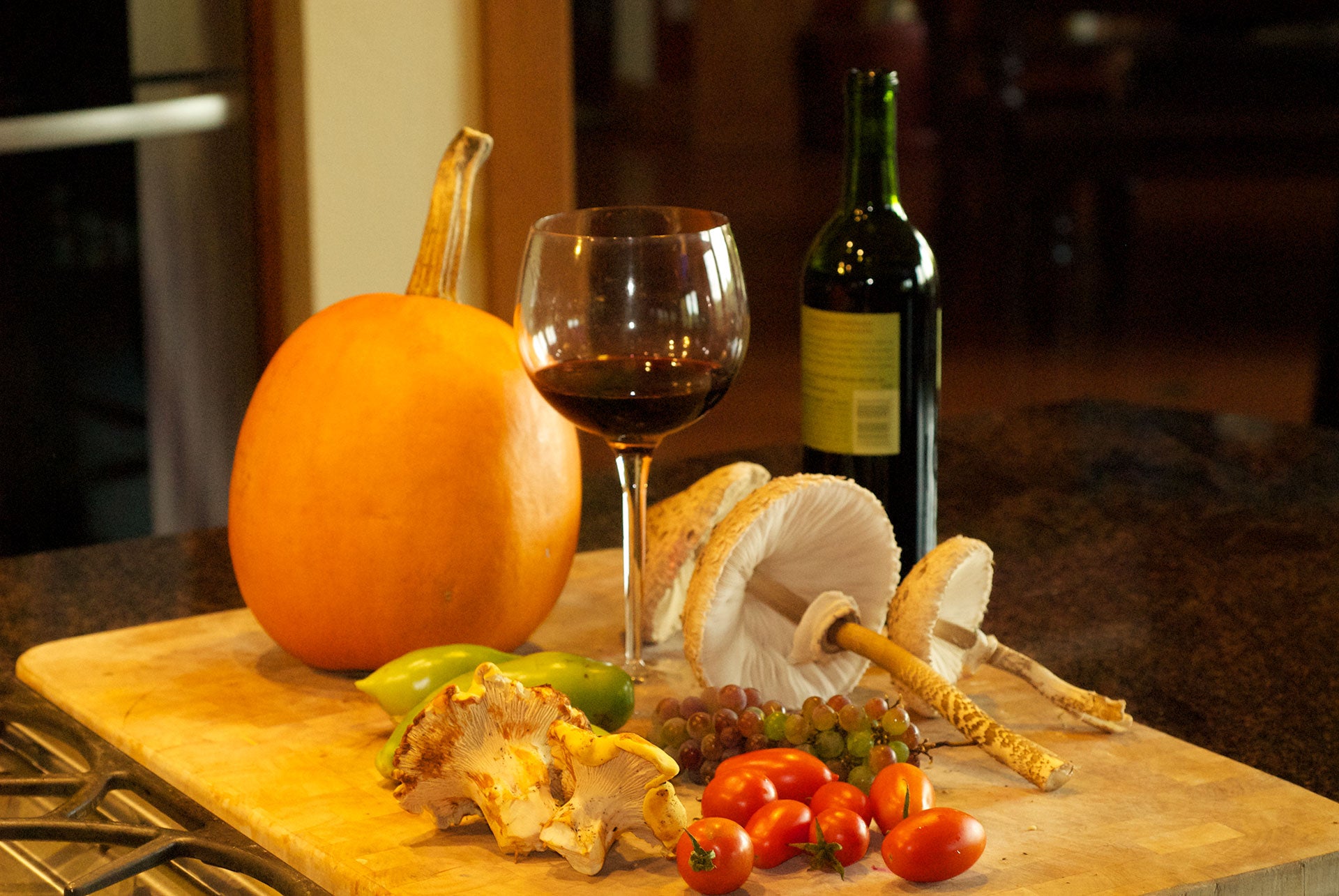 Mushroom Gravy With Noodles
From George.
1 lb fresh mushrooms (I usually use a mixture of oysters and Maitake, but pretty much whatever you have works fine), coarsely chopped
1 large onion, chopped
about a cup each of dry wine and stock (again, whatever kinds you have is fine)
1 tbsp of brown sugar (or use a sweet wine and leave out the sugar)
several tbsp oyster sauce
1/4 cup flour
1 tbsp each butter and olive oil
salt and pepper to taste
Heat a tablespoon each butter and olive oil in a large non-stick skillet (or a wok) over high heat. Add onion and cook until it begins to brown. Add mushrooms and keep stirring until they just begin to cook (the volume in the skillet will decrease quite a bit) but BEFORE a lot of juice begins coming off. Add flour, and immediately mix well. Continue cooking until the mushrooms are done—the flour will coat the mushrooms and get pretty pasty but it works out—trust me on this! Add dry wine and stock, brown sugar and oyster sauce. Stir well—the mixture will thicken. Add more stock if needed (probably!) to produce a gravy consistency. Reduce heat to simmer, taste and add salt/pepper if needed. Simmer for another ten minutes, stirring frequently to prevent burning. Serve over noodles, toast, potato pancakes, or whatever you might need a gravy for. This gravy freezes extremely well—I put it up in pint freezer containers whenever I have surplus mushrooms, and pull one out for all kinds of quick meals. In particular, whenever a recipe calls for (heaven help us!) a can of mushroom soup!!! Or, while the mixture is simmering, you can add a generous shot of Worcestershire sauce and about four cakes of cream cheese (I use the fat-free version, and defy you to tell from the taste) and stir well until it melts in. Cool, and you have a truly wonderful mushroom spread.
Have a favorite mushroom recipe? Share it here!